​Golaya Progressive Public School, Palwal (Haryana) is an English medium co-educational 10+2 day school. It is affiliated to Central Board of Secondary Education (CBSE), Delhi under Affiliation no. 530211. The school came into being in the year 1993 and since then it has been instrumental in creating goal oriented and emotionally secure human beings.
The aim of the school is to provide the best possible education in a healthy environment, where young minds bloom to their highest potential. It aims at developing in its students, the qualities of integrity, honesty, trust, tolerance and compassion. The school believes in promoting a spirit of enquiry and fostering its students to become a meaningful part of the society.
The school is affiliated for Senior secondary classes in all the three streams i.e. Science, Commerce and Arts.
As per CBSE's current policy, the affiliation is renewed after every five years and in our case it is presently valid from April 2014 to March 2019 which will be renewed as and when due.
In the year 2008, the school also got its ISO certification 9001 : 2000 which at present is 9001 : 2015.
CBSE Inspection of the school on 16.07.2019 can be viewed at the following link:
https://www.youtube.com/watch?v=uQeUhqp95ww&feature=youtu.be
GOLAYA PROGRESSIVE PUBLIC SCHOOL, PALWAL
Date Sheet of Second Pre-Board Examination of Class X and XII
(Session: 2018-19)
Date
Class X
Class XII
16.01.2019
Science

Chemistry /

Business Studies /

Political Science

19.01.2019
Mathematics

Physics /

Accountancy /

Hindi

21.01.2019
Social Science

Mathematics /

Biology

23.01.2019
English

Computer Science /

Economics
To Recognise, Nurture and Integrate the inherent talent of each student with best practices of quality education, making our students Technologically Savvy and Culturally Secure, thereby motivating them to constantly strive for excellence.
To help students grow up to be Successful and Socially Responsible citizens of a fast paced and ever changing world by imaprting a mix of Traditional and Modern values including inter alia, a Positive Outlook; respect for Life and Nature; Scientific temperement and Societal Harmony.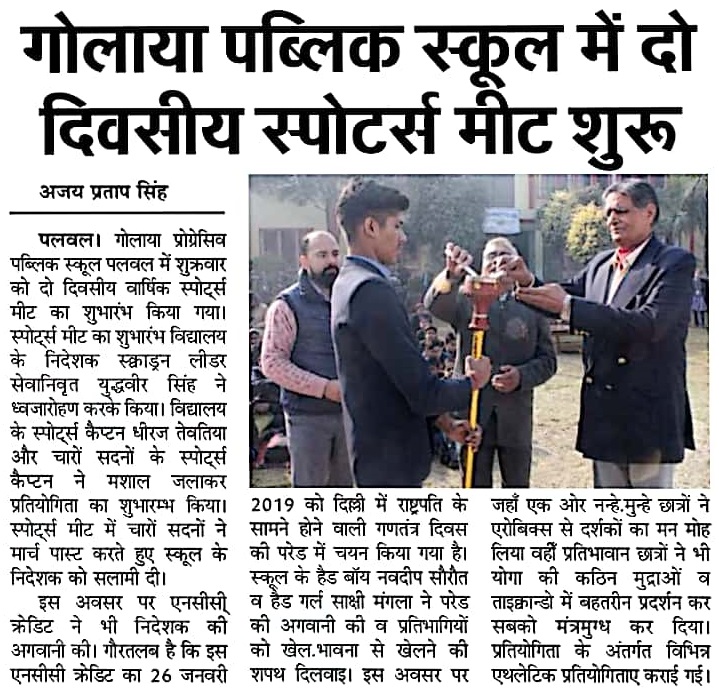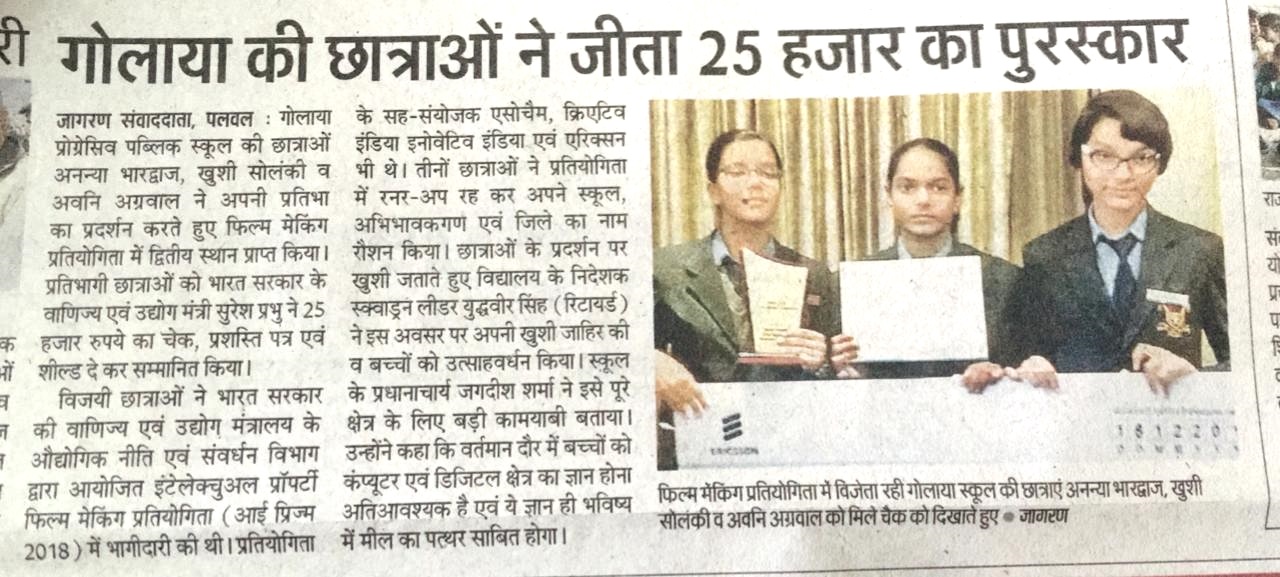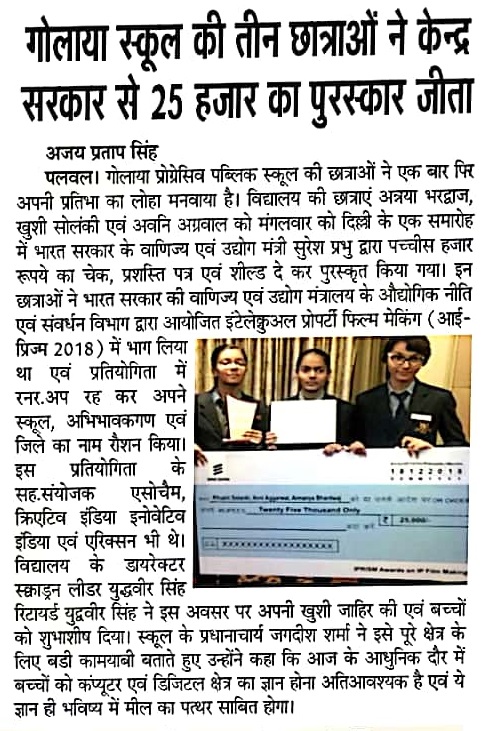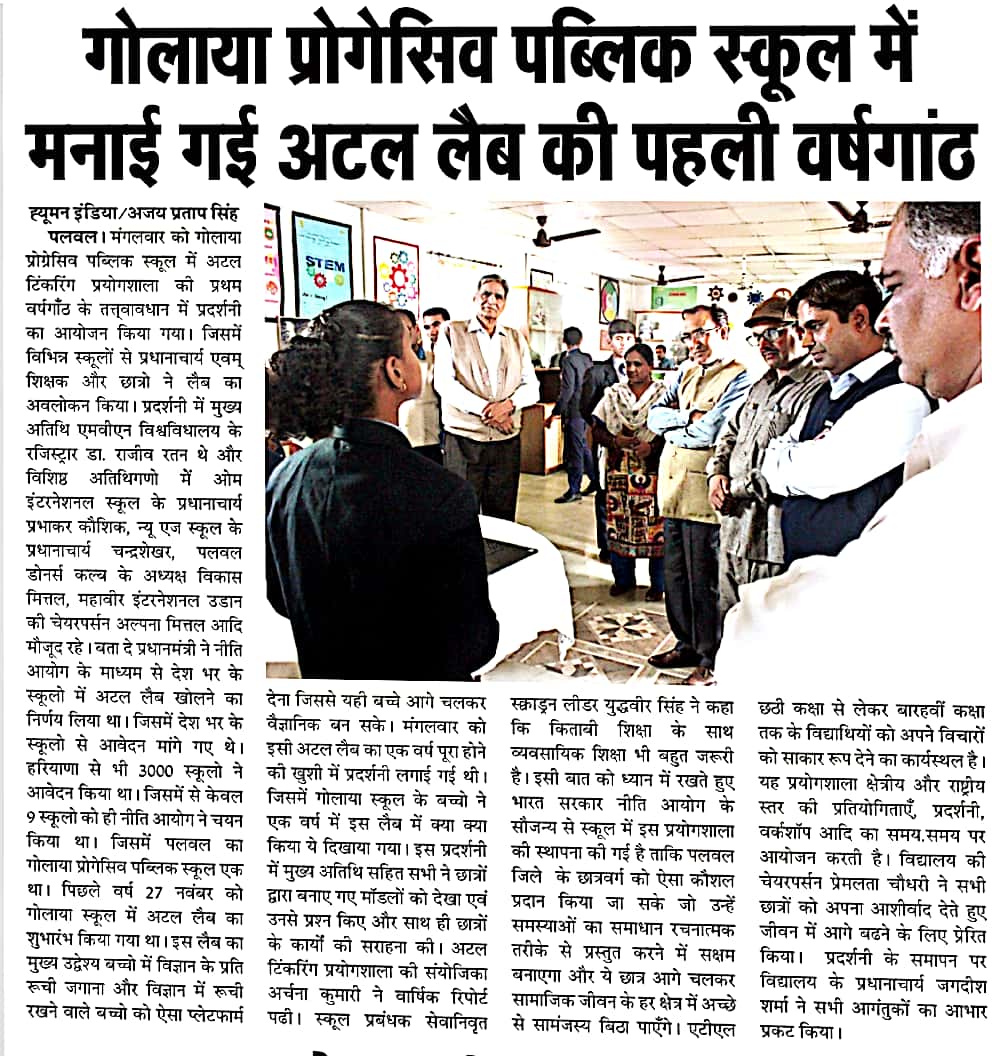 v